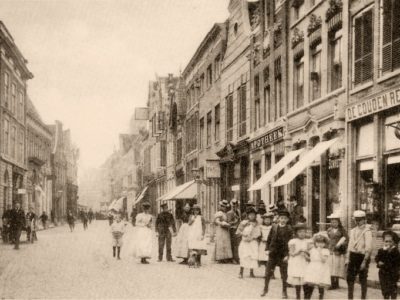 Barbie the Barbarian, Miss Narcissistic and Saint Michel are the three founding members of the Roadkill Rollers. Their idea for a rollerderderby league in Nijmegen was hatched in the summer of 2014. At that time Barbie and Miss were still fresh meat with the Arnhem Fallen Angels (AFA) and quite busy practising their skills and worrying about the MST (Minimal Skills Test). Saint had seen one or two games in passing which to him was above all a very confusing experience: what the fuck just happened?!?
During the summer of 2014, after long walks through the Haterste Vennen, several puzzle pieces started falling into place. Miss and Saint wondered if it was possible to start their own league! And who could they get to collaborate on this? Their search was a short one and Barbie was quickly recruited into the fold.
While enjoying a good glass of wine and a lunch they thought out loud about how awesome it would be if we could play roller derby in Nijmegen? And no sooner had they thought about this when the city council of Nijmegen pointed towards the sporthal De Horstacker. It even had a special roller skating floor in it! So before they even founded a league they already had a good venue. This kicked their plans into higher gear.
After several meetings and brainstorm sessions, in which Saint came up with the name 'Roadkill Rollers', they settled on a moniker and logo. After a period of more than a half year of hard work their first fresh meat training was held on January 5, 2015. The barrage of online promotion, which even got them into the local paper "De Brug", paid off. Their first training saw 20 skaters arrive at the start with Miss as their first FM trainer.
To celebrate their first anniversary they organised and played their first official bout. The event was held in a passionate and positive ambiance and saw the Roadkill Rollers fight like true roadkillers vs Pink Peril from Heerlen. A first milestone in their short history.
Another milestone was Roadkills first FM Bootcamp. During an intense and sold-out day long training session, about 40 FM skaters from inside and outside the Netherlands worked on their basic skills.